Don't miss your chance to save on new Loot Crate subscriptions during the Loot Crate Cyber Monday Sale! Loot Crate delivers a monthly box of gear and collectables for geeks and gamers. Until December 2, 2014 11:59PM PST, use Loot Crate coupon code CYBERMONDAY to save $5 off any new Loot Crate subscription. Subscribe today to reserve the December Anniversary Loot Crate as your first crate!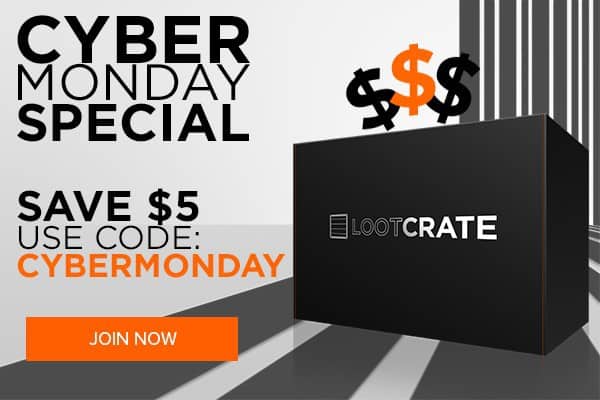 The December 2014 Loot Crate is their anniversary crate and is the bigget box yet!
With an EXCLUSIVE Funko POP! vinyl figure & more exclusives from DC Comics, Marvel Comics and Ghostbusters! This is the last crate of the year & it's not to be missed.
Subscribe to Loot Crate and Save Today!
Coupon code expires 11:59PM PST, December 2, 2014.
For more Subscription Box Black Friday and Cyber Monday savings, visit our Black Friday/Cyber Monday Subscription Box Deals page.