Black Friday/Cyber Monday Subscription Box Coupons, Deals & Savings
Black Friday is one of the most popular shopping days of the year, with retailers offering great discounts on their products. Subscription box companies are no different, with many companies offering deals on their subscription boxes.
We'll be posting Black Friday (and Cyber Monday) Subscription Box coupons, deals, and savings here, so bookmark this page and come back on Black Friday to see the hottest Black Friday subscription box savings. Then stop by again on Cyber Monday for more Cyber Monday subscription box promotions!
FSB Listed Box Company Partners: Promote your Black Friday/Cyber Monday sales on this page! Submit your coupon online or contact us with your promotion details.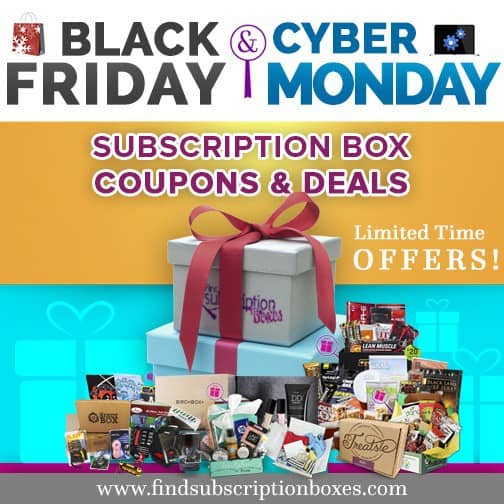 Sign-up for the Black Friday Subscription Box Deals Newsletter
Want these Black Friday Subscription Box deals delivered to your inbox? Sign-up for our Black Friday Subscription Box Deals newsletter and we'll send you an email with the best Black Friday offers during the Black Friday shopping weekend.

Jump to Black Friday/Cyber Monday Deals & Coupons:
Women's Subscription Box Black Friday/Cyber Monday Deals
Jump to Black Friday/Cyber Monday Deals & Coupons:
Men's Subscription Box Black Friday/Cyber Monday Deals
Jump to Black Friday/Cyber Monday Deals & Coupons:
Geeks, Gamers, and Nerds Subscription Box Black Friday/Cyber Monday Deals
Jump to Black Friday/Cyber Monday Deals & Coupons:
Food & Drink Subscription Box Black Friday/Cyber Monday Deals
Jump to Black Friday/Cyber Monday Deals & Coupons:
Kids Subscription Box Black Friday/Cyber Monday Deals
Jump to Black Friday/Cyber Monday Deals & Coupons:
For the Home Subscription Box Black Friday/Cyber Monday Deals
Jump to Black Friday/Cyber Monday Deals & Coupons: