Looking for the perfect nail look for October? Create unique Halloween nail art with the nail polishes in the Julep Maven Pretty Spooky Welcome Box. For a limited time, get a FREE 4-piece Julep Maven Pretty Spooky Welcome Box for new Julep Maven subscribers when you use Julep Maven coupon code BOO checkout, you just pay $2.99 shipping.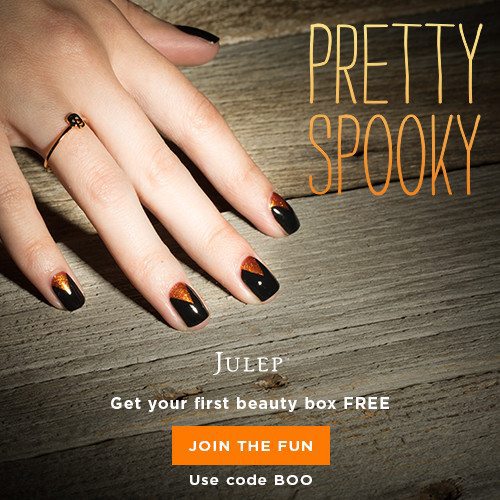 Use the 4-piece Pretty Spooky Welcome beauty box can be used for Halloween-themed nails. (Keep reading for an easy home manicure for Halloween.) The Julep Maven Pretty Spooky Welcome Box has 3 spooky nail polish colors and a Julep Eye Glider liner for a total $50+ value! This limited time Pretty Spooky Julep Maven Welcome Box is just $2.99 shipped with new Julep Maven subscriptions with Julep promo code BOO.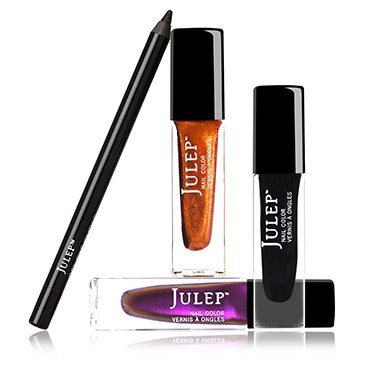 As a Julep Maven subscriber, you'll receive a customizable beauty box of the latest nail colors and award-winning beauty products. Swap out polishes or beauty items to create your perfect monthly Julep box. Mavens also receive exclusive benefits like 20% off single product purchases, early access to secret sales and more!
The Best Julep Maven Deal: Pre-pay for a 3 month Julep Maven beauty subscription to get the Julep Maven Pretty Spooky Welcome Box shipped FREE, 2 months of Maven & FREE shipping for just $39.98 – a $15 savings!
Get your FREE 4-Piece Julep Maven Pretty Spooky Welcome Box FREE ($50+ value) with code BOO today!
Offer available while supplies last. Photo is representative of the products included, however actual colors may vary based on stock availability. All Maven plans automatically renew, and you may cancel any time. Billing occurs on the 27th of each month.
Easy Halloween Nail Tutorial
Use this easy Halloween nail art tutorial from Julep Maven to create a spooky nail look for October.

Here are the steps to this easy orange-and-black mani:
Paint one coat of orange 2/3 of the way up your nail. Let dry.
Using a striping tool (or a toothpick!) to polish on black points.
Polish the outline of the points with one coat of black polish.
Add a top coat and you're done!