The Gwynnie Bee women's fashion subscription box provides subscribers with an endless rotation of clothing from more than 150 designer brands in sizes 10-32. For a limited time, new Gwynnie Bee subscribers can sign-up for the Gwynnie Bee FREE Trial to get the first 30 days of Gwynnie Bee free.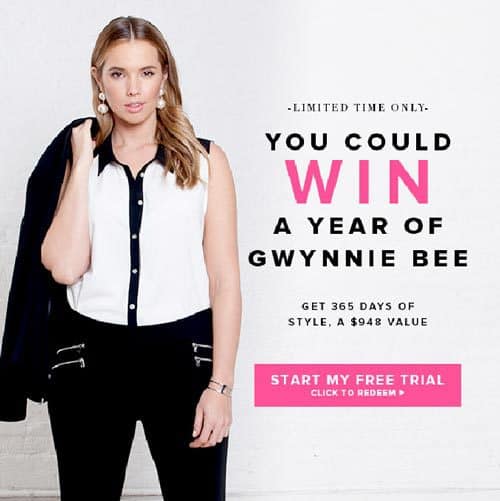 Plus, for a limited time, through June 21, 2015, all new Gwynnie Bee subscribers will be automatically entered to win a 3-plan Gwynnie Bee subscription for a year – FREE!
Read our Gwynnie Bee reviews to learn about our reviewer's fashion experience with Gwynnie Bee.
Join the Gwynnie Bee Free Trial, get a FREE month of Gwynnie Bee and enter to WIN today!
Subscribe & Win 1 Free Year sweepstakes expires Sunday 6/21/15 at 11:59PM ET. New subscribers will be automatically entered in the 1 Free Year on 3-plan contest. No purchase necessary to win. To participate without purchasing, please send an email to gwynnie@gwynniebee.com with "Subscribe & Win" in the subject line. Include your first and last name in the message. Employees and family members of GB are not eligible to win. We will select the winner at random and notify via email on or after Monday 6/22/15. Contest is limited to US residents only. Prize cannot be redeemed for purchase credit or cash value. Contest prize is valued at $948.