We have our first POPSUGAR Must Have Box October 2015 box spoiler! Curated by POPSUGAR Founder & Editor in Chief Lisa Sugar, every POPSUGAR Must Have Box features $100+ in the best product finds in fashion, beauty, home, fitness, food, and more. POPSUGAR has already revealed the inspiration for October's Must Have Box.
The October 2015 POPSUGAR Must Have Box will include a copy of Mindy Kaling's book, Why Not Me?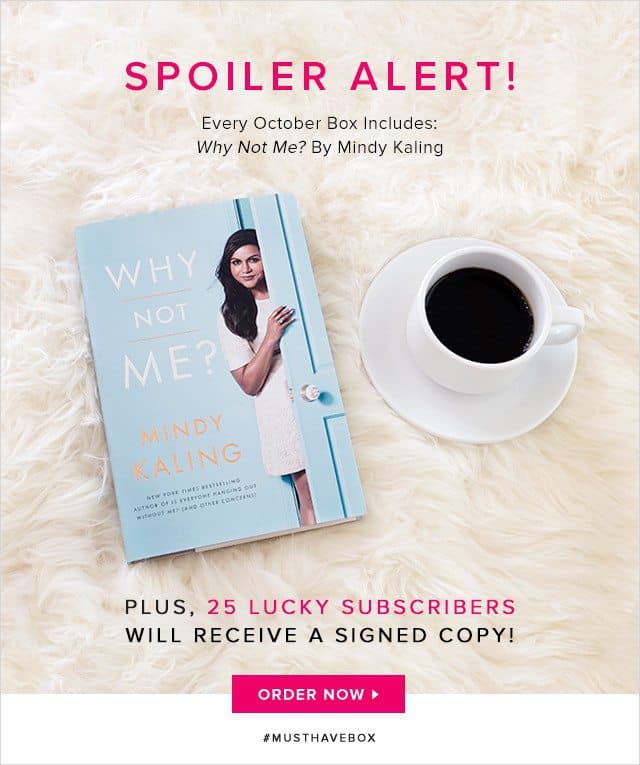 In Why Not Me?, Kaling shares her ongoing journey to find contentment and excitement in her adult life, whether it's falling in love at work, seeking new friendships in lonely places, attempting to be the first person in history to lose weight without any behavior modification whatsoever, or most important, believing that you have a place in Hollywood when you're constantly reminded that no one looks like you.
Are you excited to read the latest book from Mindy Kaling?
Reserve your October POPSUGAR Must Have Box today!
POPSUGAR Must Have Coupon
Save $5 off your first POPSUGAR Must Have Box subscription when you use POPSUGAR Must Have promo code MUSTHAVE5 at checkout.