POPSUGAR Must Have has already revealed the June 2015 Must Have Box inspiration and now we have our first POPSUGAR Must Have June 2015 box spoiler!
Every June 2015 POPSUGAR Must Have box will include a pair of Quay Australia Mandate sunglasses – a $45 value!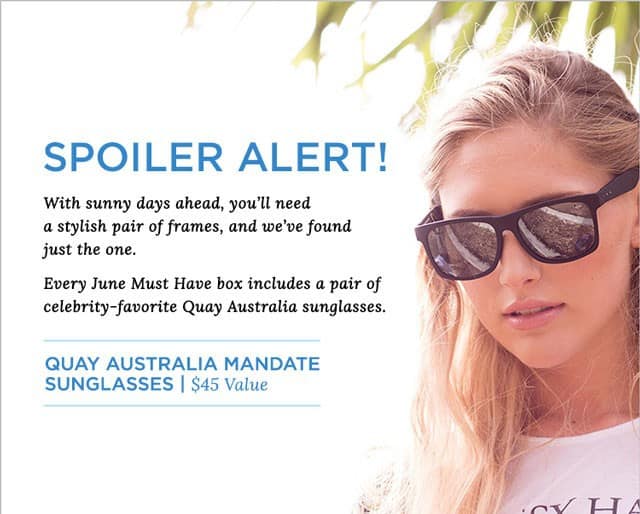 Born roadside on the festival circuit with Linda and Allen Hammond in 2004, Quay Australia is a notoriously cool, affordable and quirky range of sunnies for the nonconforming and freethinking.
We love that this June POPSUGAR box spoiler will help protect our eyes from the Summer sun in style.
What do you think about the June POPSUGAR Must Have box spoiler?
POPSUGAR Must Have Box Free Gift Coupon
There's still time to reserve your June POPSUGAR Must Have Box. For a limited time, purchase the June 2015 Must Have box and receive the Sorial wallet on a chain FREE when you use POPSUGAR Must Have Box promo code WELCOME at checkout – a $49 free gift value!
Has the POPSUGAR Must Have free gift offer expired? Use POPSUGAR Must Have promo code MUSTHAVE5 to save $5 off new POPSUGAR Must Have Box subscriptions.
Free gift offer is for new POPSUGAR Must Have subscribers only. Any duplicate boxes purchased with this promotion will not be refunded and cannot be returned for credit.
Win a Custom Stowaway Cosmetics Kit
10 lucky June POPSUGAR Must Have box subscribers will have a special surprise in their June Must Have Box. Order a June POPSUGAR Must Have Box today and you could win a Custom Kit from Stowaway Cosmetics – a $75 value!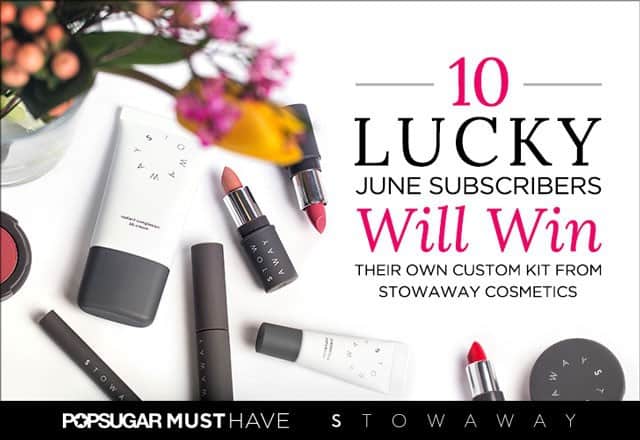 Stowaway knows that if you're on the move, your beauty products are, too. Stowaway is a cosmetics brand built on the philosophy that makeup should be designed to go wherever women go. Its makeup formulas feel as good as they look and come in sizes you can carry anywhere — you'll also finish them before they expire. To top it off, they are always paraben-, phthalate-, and cruelty-free!
The May POPSUGAR Must Have Box is sold out. Subscribe to POPSUGAR Must Have and reserve your June Must Have Box!