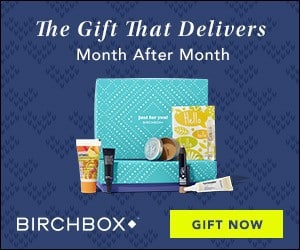 Birchbox is a great gift for girlfriends, wives and daughters (or even yourself!) For 3 days only, save 20% off all yearly Birchbox women's gift subscriptions when you use Birchbox promo code GIFTNOW20 at checkout.

A 1 year Birchbox Women's Gift Subscriptions is just $88 + free shipping with code. That's just $7.33 per box! Every month, Birchbox delivers a customized box featuring 5 beauty and lifestyle samples. The products are selected to match your beauty preferences.

Don't miss this great chance to save on Birchbox gift subscriptions. Use code GIFTNOW20 to save 20% off all yearly Birchbox Women's Gift Subscription today!

Birchbox coupon code GIFTNOW20 expires December 25, 2015.