MunchPak delivers snack subscription boxes filled with hand-selected popular snacks from around the world. For a limited time, through November 13, 2015, save $5 off any MunchPak subscription when you use MunchPak promo code VETERANS5 at checkout.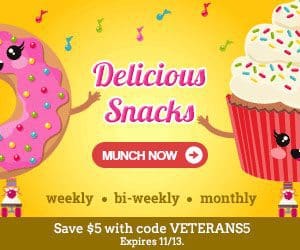 Choose from 3 available MunchPak sizes and weekly, bi-weekly, and monthly MunchPak subscriptions.
Save $5 off Any MunchPak subscription with code VETERANS5 today!
MunchPak coupon code expires November 13, 2015.